I was passing the pharmacy in the village the other day, and thought I might as well top up on supplies.
I asked the girl there for a box of Neurophen Plus, and she started a long lecture about how dangerous and addictive they are.  I sighed, told her to shut the fuck up and just give me what I had asked for.  She's a lovely girl, and she fancies me something rotten, but I have sworn to be faithful to Sharon.  She told me that she had to give me the little lecture as it was now 'required'.  The fucking Nanny State strikes again.  I don't know what the fuck they are on about anyway.  I have been taking Neurophen Plus regularly for years, and it has never done me any harm.
When I got home, I opened the bag with the tablets in it, and a little piece of paper fell out –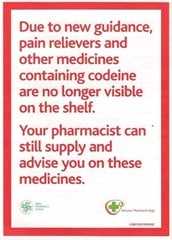 I suddenly realised what is going on.
Obviously, buoyed by their law requiring cigarettes to be hidden from view, and its resulting resounding lack of success, our government have decided that the best way to treat anything potentially harmful is to hide it.  If we can't see it, we'll forget about it and won't want it.
Personally, I find the whole thing a massive pain in the hole.  Not all shops sell my tobacco, and in the Good Old Days, I would simply scan the tobacco shelf to see if they had it, before ordering.  Now I have to fucking ask every time, which irritates me and the shopkeeper.  Now I have to do the same if I am calling into a strange pharmacy.  Fuck that for a game of soldiers.
You know where this is leading, don't you?
Fast food outlets will be next.  No longer will we be able to see those college drop-outs boiling the grease behind the counter.  No longer will they be able to display those completely misleading pictures on their menu.  Your order of greasy chips and flaccid hamburger will be carefully wrapped in a box long before you get it, in case the sight of it may tempt an innocent child.
Pubs will be next on the hit list.  No more colourful bottles on shelves behind the counter.  No more beer taps.  A pub will consist of a bare counter and blank cupboards behind the barman.  Even the legally required price list will be hidden behind a blank sheet of wood, in case the words may tempt you into a night of drunken debauchery and binge drinking.  Pints will be served in boxes in case some child might see them and become an instant alcoholic.  You can't be too careful, you know?
Seeing as the sight of fat people is now a cause of obesity, anyone deemed overweight will be required to travel in a car with tinted windows.  Of course, they can't leave the car under any circumstances, as you never know who might see them and become instantly overweight.
I would congratulate our government on their excellent initiative, but I haven't seen any of them in ages.
Maybe they have fallen foul of their own initiative?