Smoking makes you grow older
I am amused.
I know I shouldn't be, but I am.
You see, for a while, they insisted on printing pretty little pictures on my packs of baccy, with the general intention [I presume] of putting me off smoking for life.
They have the opposite effect.
Many years ago, the tobacco companies used to put little cards in packs of cigarettes, in the sure and certain knowledge that people would start collecting them. They did, and some fantastic collections were built. The pictures on the packs of tobacco have become my modern version of the cigarette card, and I am now buying more tobacco than ever, so I can collect them.
What I love about these pictures is the attempt to scare the shit out of me, when in fact they are so over the top that they just make me laugh.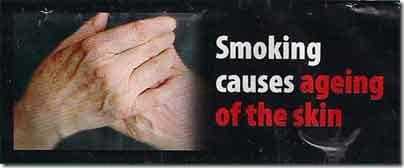 So smoking is supposed to cause wrinkles?
To prove this they show a pair of wrinkly hands.
Whose hands are they? If they belonged to a twenty year old, then I would say the point was made, but for all I know, they just found some eighty year old and used his or her hands. In fact they remind me of my mother's hands, and she didn't smoke.
Now my hands are fine. They may not be up to the class of a baby's arse, but considering whet they have been up to, and where they have been in the last six decades, they are in pretty good shape. They are one hell of a lot smoother than the ones in the photograph, and I expect them to look like that in maybe twenty years time. So what the fuck difference does it make whether I smoke or not? My hands are going to get wrinkly because that kind of shit happens when you get old.
They have it all arseways anyway. Smoking does not cause ageing of the skin. Age causes ageing of the skin, and it is going to happen whether you like it or not.
Now, if they had said that quitting smoking stops people ageing, I might be interested.
But then, fuckit..
Who wants to live forever?