Letting sleeping dogs lie
Our K8 has gone off on a wee break.
Somehow, and I'm still not sure how, I was conned into looking after her dog.
Wouldya/Woodja is a nice enough dog.  He is big.  He is heavy.  He is very friendly.  He is the most stupid dog I ever met.  The simplest of tasks can overtax his single brain cell.  He is the Mary Coughlan of the canine world.
Looking after dogs is much the same as looking after children – it's just a question of keeping them entertained.
We went out into the garden for a spot of ball.  I threw the ball for Woodja, and he disappeared into the undergrowth.  Sandy and I had a quick set of tennis [Sandy won again].  Woodja eventually came back all pleased with himself and dropped a rock on my foot.  I sighed.
Maybe active sports aren't Woodya's thing so I thought I'd try something a little more cerebral.  I set up the chess board.
Dogs aren't very good at tossing coins, so I tossed, Sandy won and she chose white.  She quickly pawed her queens pawn forward two squares, which is one of her favourite openings.  Woodja ate his king.  Obviously not a chess player.
I gave up.
Sandy is now lying on my bed reading a book.  Woodja is snoring on the couch.  It's best to leave them that way.
There is no doubt about it – Woodja is fucking stupid.
But it's hard not to like him.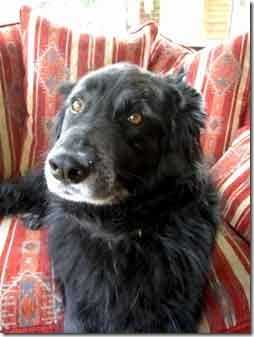 Nice but dim.