I hate advertisements.
In The Good Old Days, they were things you would find peppered inside newspapers, and that was fine.  They were easy to ignore.
In the last few decades however, the advertising industry has gone into overdrive and is now intent on ramming useless products at us at every available opportunity.  We are now treated to programme breaks between advertisements on television.  Every available blank space is plastered with hoardings advertising pure shite.  Even our buses have become nothing more than mobile platforms for garish tacky promotions.
The latest insidious form of advertising is sponsorship.  This one really pisses me off.  Every fucking event or festival has to have some fucking brand name in front of it.  You can no longer have a Dublin Literary Festival.  Oh no. It has to be the Durex Literary Festival or some such fucking name.  What's worse, all the drooling knuckle-draggers out there take to this like a duck to water and happily prattle on about The British Nuclear Fuels Garden Show or The Tampax Grand National as if it was the original name.  How long before we have Hallmark Christmas?
Now they have gotten into the act of naming buildings.
I liked the Point Theatre.  It was a name that reflected its origins.  The building was part of Irish Railways Point's Depot before it was sold off, so the name had an historical significance.  Then they renamed it the O2.  Fur fuck's sake!  I hate the name O2.  It means nothing.  It is a fucking stupid name for a tacky mobile phone company.  But now all we hear about is events at the O2.  Every time I hear that name, my bile rises.
The latest abomination to hit the scene is the revamped Lansdowne Road Stadium.
Lansdowne Road is part of Dublin.  It is part of my history, having graced its turf myself some years ago.  Its name was its location and that was fine.  If anyone wanted to know where the stadium was, they just looked it up on a map.  Then they decided to pull it down.
I have a lot to complain about with the new stadium.  Over 140 million of my tax money was ploughed into it for a start, and am I ever going to see a red cent return on that?  No.  Then there is the fact that the new structure looks like a cross between a half eaten Yorkshire pudding and a punctured bouncy castle.  It is fucking hideous, and the architect should be immediately deported to Mars for life.
Worst of all though is the name.
They no longer refer to it as Lansdowne Road.  It is now the Aviva or some such fucking inane name.
I don't know who Aviva are and I don't care.  The word Aviva is a meaningless verbal fart that grates on my sensibilities, and it irritates me intensely that I am going to hear it for years to come simply because some company forked out a wodge of silly money for the honour.
Aviva, whoever they are, can go fuck themselves.
It will always be Lansdowne Road to me. 
Even if it is now a carbuncle on the Dublin skyline.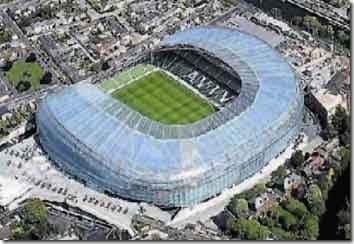 Here was Lansdowne Road