Faces I could never tire of kicking – 6
Today's choice may come as a surprise to some people, but it comes as no surprise to me.
There is something about this one's face that really gets on my wick.  I don't know quite what it is, but I squirm every time I see her, avoid films she is in and turn over magazines if she's on the cover.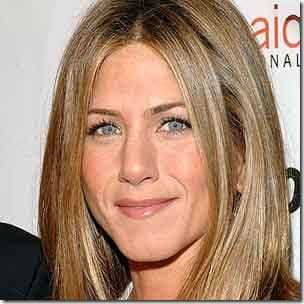 I think my love hate relationship started with "Friends".  To me, that programme was the epitome of everything that is unfunny about American comedy.  It was overacted, badly staged and basically, not funny.  What made it worse was that everyone raved about it.
In my previous incarnation as a worker, I used to share an office with a Friends fan.  Every coffee break was the same – she would start on about the antics of the Friends lot and would bore the arse off the rest of us, who hated the programme.  We would all moan silently, but none of us had the heart to tell our colleague to shut the fuck up.  We were too nice.  That's office life for you.
Since "Friends", Aniston seems to crop up everywhere.  I have had the misfortune to see a couple of films featuring her.  Someone should tell the poor bint that she can't act for nuts.  She always seems to play the same character, no matter what film she's in, so if I see her name in the listings, I just don't watch any more.
Then there are the "celebrity" magazines.  They seem to be obsessed with her.  Of course, I don't buy them but that doesn't stop all those fucking advertisements.  I mean to say, who gives a flying fuck about Jennifer Aniston's love life?  On the grand scheme of things, it is less than trivial.  Who gives a fiddler's fart if she is pregnant or about to date some new sap?  I have more important things to worry about, such as that pimple on the back of my neck.
A lot of men consider her to be attractive.  I don't.  Those blank soulless eyes freak me.  The light is on, but there is nobody in.  She never seems to change her expression either.  I have a private theory that she is, in fact from the planet Zorg, and is eyeing the human race up for potential meat farming.
It is definitely time to dust off the boots.