Where a letter can make all the difference
I had a grand chat the other night with my good friend Kirk, on Skype.
I should mention that I have never met Kirk, nor spoken to him because he lives in America, and the friendship is based purely on text.  I don't even know what the fucker looks like!  Maybe he is just a computer that has passed the Turing Test?  Or maybe he is an alien?  Who cares?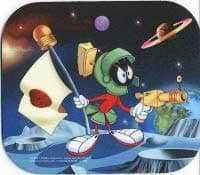 Kirk?
Anyhow, we were having a grand chat, when he happened to mention that while out driving, he had hit a mouse.
"So what?" says I.  Well, actually, I typed it but you know what I mean.
He then said that the mouse was grand, and he and the missus were grand but that the mouse had smashed his windscreen, his rear view mirrors and put a huge fucking dent in the front of his Jeep.
We have mice here in Ireland, and some of them grow quite big, but fuck me!!  I know the Americans love to exaggerate but this was going too far.  How could a tintsy wincy mouse do so much damage?  I told him to cop on to himself.
He replied that it wasn't a mouse – it was a moose.  Apparently one letter can make quite a difference?
Herself was reading all this over my shoulder and muttered that he should have brought it home to mount its head over the fireplace.
He replied that it wasn't dead.
She replied "what has that got to do with it?" which is a fair point.  I told him to get his arse back out there and run it down again.
Because it is still alive, he is going to have to drill a hole in his wall over the fireplace to stick its head through.  It's only fair to leave the rest of it outside, because that apparently is the part that makes the nasty smells.  He is going to attach its tail to the door-bell so he has a nice fancy bell-pull.
Kirk and I have long meaningful discussions on a regular basis.
Our topics are many and varied.
If he came to Ireland, would there still be a four hour time difference between us?  Would he have to wait four hours to hear my question?  Would I have already heard his answer four hours previously?  These are groundbreaking questions, and have never been studied properly.
We have also discussed the possibility of thought transfer.  Well, we didn't type that bit – we used long distance mind reading, but we decided it wasn't possible anyway.
I wonder if he'll be on line tonight?
I want to find out how he is doing with installing his trophy in his hoose.