Faces I could never tire of kicking – 3
It's two for the price of one, this time around.
I don't know what it is about these two, but I am completely pissed off with the sight of them.  They seem to crop up everywhere, and in all the kinds of television programmes that I despise.  The X-Factor!  Celebrity Get Me Out Of Here, or whateverthefuck it's called!  I think they even had their own Saturday night programme?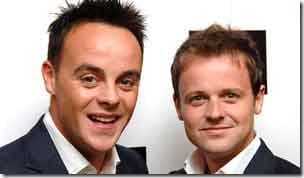 In particular it's the one on the left.  Ant?  Dec?  Who gives a fuck?  I just want to give him the sledgehammer treatment.
Who the fuck are they?  Are they the failed remnants of some long failed pop group?  Are they someone's sons?  Are they related/lovers?  Are they failed actors?  Their entire talent seems to be based on their 'cheeky, chirpy chappies' reputation.  I fucking hate 'cheeky chirpy chappies'
Then they started cropping up in those advertisements for the Wii, which damned near put me off buying one myself.  The whole basis of the advertisement nicely demonstrated what I hate about the pair – a family sitting at home when the two lads walk into the room.  Immediately everyone cheers up and has a great laugh with the two lads making witty comments [at least I assume they did – I always had the sound muted].
Some may love them as 'lovable rogues'.
I see them as a pain in the hole.
Hobnails, here I come…..