Faces I could never tire of kicking – 2
I suppose it was inevitable that this one would come up.
Normally I would include people in this hall of fame because of an irrational desire just to have a good kicking.
This week's candidate is more than that.  I have a rational desire to smack her one with the back of a shovel, but she still fits the bill, because she's an ugly cow.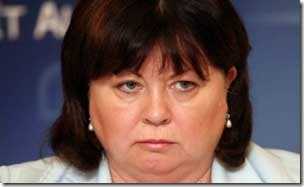 From the irrational point of view, I just hate her sulky scowl.  She rarely smiles, and has one of those voices that drones on on a monotone that is a guaranteed cure for insomnia, if it weren't for the fact that she talks such bullshit.  This is a face that definitely requires a drastic piece of reshaping, preferably by non-surgical methods.
On the rational side, she is a fucking menace to the public.
Once again, there is another scandal in the health service.  One of the nation's major hospitals has admitted that 57,000 x-rays were never reviewed by a consultant.  This has resulted in at least one death.  On top of that, they never bothered even opening 3,500 letters of referral from GPs.  This is a mess that is just another in a long litany of cock-ups, foul-ups and disasters in our health service, which all started when our Minister for Obesity Health decided to 'reform' the health service.  All she has succeeded in doing is to dismantle a system that worked reasonably well, and replace it with a bureaucratic nightmare that doesn't function at all, but costs the state a staggering fortune per year.
The worst part about it is that she refuses to see what a monumental bollix she has made of the system.  She just keeps digging us deeper and deeper into this appalling mess.
And where is she now during this latest revelation about the x-rays?
She is swanning around New fucking Zealand with her husband at our expense. We are paying for her to have a nice little holiday on the pretext of 'an official visit' for Paddy's Day which isn't until next week.  God give me fucking strength.
This cow is a menace to society.
She is a corpuscle on the face of mankind.
Pass me my hob-nails.