I see today is World Book Day.
This doesn't surprise me because every fucking day is World Somefuckingthing Day, so I suppose books must get an elbow in at some stage.
I received my first cheque from the publishers a couple of weeks ago for my Magnum Opus.  Quite an occasion?  I brought it to my bank to lodge it, and there were the usual embarrassing scenes where the manager came out with the champagne and cigars [whereupon we had to go outside to smoke 'em in the rain, which wasn't exactly the ambience he was trying to create?].  He started plying me with leaflets telling me all about their fantastic investment schemes, and I told him to fuck himself, that the money was already spoken for to pay the balance on that island in the South Pacific.  Did he honestly think I was going to hand my money over to a fucking bank to mind?
Anyhow, I digress.
Apparently, World Book Day is a day for encouraging people to read, and there is an emphasis on reading sessions in libraries.  I have already contacted as many libraries as I can find and have received promises from them that my book will be on the reading list for the children's sessions.  It's wonderful what a simple threat of arson will achieve?  I didn't particularly like resorting to threats, but I consider it my mission in life to broaden people's minds, and where better to start than with the young?
I see those fucking publishers have dropped the price of The Book a tad, which means the next cheque will be a bit smaller.  Bastards.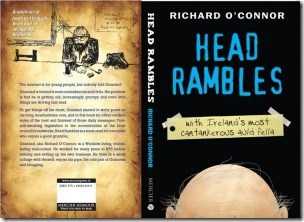 If you want to get your orders in for Mother's Day [assuming you really hate your mother?] then you had better hurry – Amazon in the US have only five left, and there are just two left in the UK.
I see there is a new review on the US site.  It's long and rambling, but reasonably flattering.  They end up with the paragraph:
Head rambles is a delightful read which makes you stop and laugh at the small things that make Irish life unique. The random order of stories and topics makes the book feel how it was meant to; like a witty, grumpy old man venting his frustrations about everyday life to the world.
You can almost see him sitting at the laptop with a cup of tea and his pipe. Highly recommended.
I wouldn't object to this apart from the second last sentence – "You can almost see him sitting at the laptop with a cup of tea and his pipe".  What the fuck do they mean by that?  "You can almost see him"? 
Are they implying that it's all a figleaf of my mind?
Do they think I am making it all up?
Fucking nerve!