I have never made any secret of the fact that I love animals.
I love them all, with the possible exception of Jedward and guinea pigs that twang the bars of their cages.
I was delighted to hear then that they are banning deer hunting in Ireland.  Not that it makes much difference as most people ignore the law anyway.
I was a bit puzzled when I heard the Ward Hunt in North Dublin were complaining about this though.  I thought they were similar to the Moorhouse Hunt in Bray and the McDonagh Hunt in Mullingar, and confined themselves purely to two legged animals, but I must be mistaken.
I love deer in particular, and am at a loss as to how people can hunt them.  They are majestic beasts and are kings of the mountains.
I would ask you to look at the following two pictures.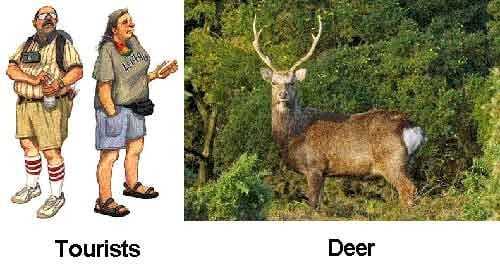 Now answer me this.
Which of these is the most majestic?
Which of these is a positive addition to the scenery?
Which of these is gentle, quiet and unobtrusive?
Which of these should be eradicated from the mountain tops?
There is no doubt about it.
The War on Tourism must continue.  It was the only good thing that Dubya ever started.  I'm all behind Obama sending in more troops.  Tourists must be eradicated from the face of the earth.  They are a scourge on mankind.
I am stepping up my campaign.
And I'm adding deer hunters [officially] to my list.