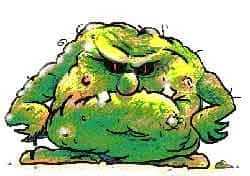 I have a bug.
I haven't mentioned it before, because frankly it's none of your business, and the only reason I am mentioning it now is that I AM PISSED OFF WITH IT.
It has been lurking around in my head and chest for the last three weeks or so, and if it doesn't go away soon, I am really going to get annoyed.
I am sick of the stuffy head and the headaches and the cough and the aches.  I am tired of sweating when the central heating is off, and shivering when the heating is on.  Worst of all, I can't think straight.
No.  On second thoughts, that's not the worst part.
The worst part is the sympathy.
I fucking hate sympathy.
Herself is doing her best to ingratiate herself by trying to feed me Manuka Honey and shite like that.  She can grovel all she likes but she is not getting shoes for Christmas.  Barefoot was good enough for our forefathers, and it's good enough for her.
The only time sympathy has an upside is when the lads down in the pub buy me a whiskey for the chest.  I make sure to cough loudly when I first enter, and that usually has the desired results.  With some judicious hacking I can get a full nights free whiskey out of the sympathy card.  The downside of that is that I have probably passed the bug on to everyone, so I will be drinking on my own in a couple of weeks time, or worse still – I'll have to buy everyone else whiskeys out of sympathy.
I don't know what the bug is.  It's the first one I have had since I left work eight years ago, as I had no need for sick certs since then.
It's probably the Pig Thing.
If it is, it's no big deal.
Except that it won't fucking GO AWAY.