Today is September the 22nd.
The Autumn Equinox.
Today, Autumn officially starts and Summer is over.
It is 26 degrees indoors at the moment.  It is dead calm, and the sun is blazing out of a clear sky.  I brought the thermometer outside for the laugh, but I was afraid of breaking it so I brought it in again.  When I brought it in, it read over 45, and it only goes up to 50.
I snapped this photograph of wild plants at the side of the road outside our house.
There is nothing unusual about that snapshot – they are all over the place.
I also grabbed this off the RTE web site.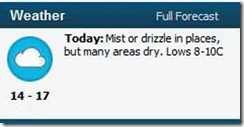 Will someone please, please tell me why the fuck I am going back to Ireland?