We had a grand thunderstorm yesterday.  The French really know how to throw a thunderstorm.  None of this 'one fart and it's all over' kind of lark that the Irish are used to.  We had about an hour of grand rib shaking crashes and bangs and it cleared the air beautifully.  The air needed clearing badly as the day before it was hot.  And I mean fucking HOT.
So, after the thunder was over, Herself crawled out from under the bed, and I came in from trying unsuccessfully to photograph a bit of forked lightening and we met in the middle.
"Will we go into Sarlat?" says she.
"It's a grand day for it," says I.  "Let's do it."
Sarlat is quite a big town.   Essentially it consists of a circular core of Medieval streets and a ring road outside of which they have thrown down all the modern stuff.  Herself likes to be dropped off in the middle of the Medieval bit, leaving me to do the parking and all that mundane shite.
"Where will we meet up?" I asked, as I know her wandering habits of old.
"In the main street," she replied with that hint of innocence which I know too fucking well.
"I'll meet you in the main square," I said firmly.
"The main square?"
"Yes.  The main fucking square.  The one with the big church doors,  Got that?"
"Yes," says she.  "The main square with the big church doors."
"And you won't go wandering off?"
"No.  I'll meet you in the main square."
I dropped her off and headed out on the ring road to the car parks.
Sarlat is one of the biggest tourist attractions in France.  It is the French equivalent to Killarney.  Unlike Ireland however, they do not believe in fleecing you at every single possible turn.  In Ireland, if you so much as fart, they'll charge you for the pleasure.  Not so in France.  Here, they appreciate their visitors and the parking is free.
I parked the car without any problems whatsoever and made my way down the zig zag steps that lead down the slope into the city centre.
I arrived in the main square.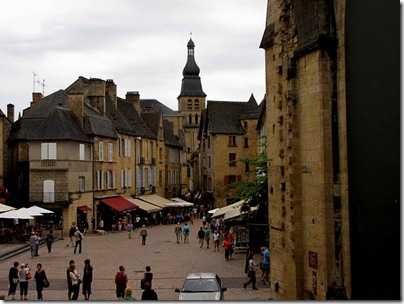 There was no sign of her of course, so after waiting for a bit I phoned her.
"Where the fuck are you?" says I.
"Outside a chemist," says she.
God give me fucking strength! "What fucking chemist?  Where?" I roared, causing a few tourists to stop and stare.
"Beside the homeopathy shop," says she with that touch of innocence I used to find so endearing.
After about five minutes of entertaining the onlookers, I eventually ascertain that she is the other end of town.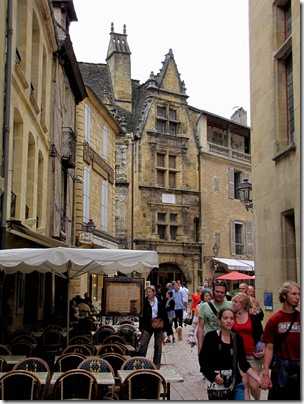 Eventually I found her.  Inside a jeweller's shop.
I bought her a ring.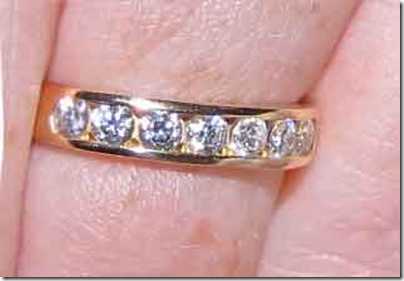 I'm going to wait until she's asleep and I'm going to attach it to her nose.
Then I'm going to tie a fucking rope to it.