They tell you that marriage is about a lot of things.  They say it's about love and companionship.  They say it's about sharing a life.
What a load of bollox.
Marriage is having to watch television programmes when you'd rather have peace and quiet.
Herself decided she wanted to watch that ghastly fanny-fest that calls itself The Rose of Tralee.
I toyed with the idea of going down to the pub, but I'm a bit short on the readies at the moment, so I was stuck.
I tried not to watch, but you know how it is with car crashes?  Yes.  You just have to take a peek.
Fuck me but some of them were woeful.  And when they weren't being woeful they were being as predictable as sin.  They all rattled on about how it was their first trip to Ireland [I swear a couple of the Irish girls came up with that line too, which surprised me] and what a wonderful place Ireland is [HAH! They should try living here].  Their grannies all came from Roscommon [it's probably the one, very prolific granny?].  They all do Irish dancing and they all think their escort is 'great'.  One of them had the common sense to try to strangle Ray D'Arcy with a Boa Constrictor which was quite inventive, but the ads came on and we missed the interesting bit.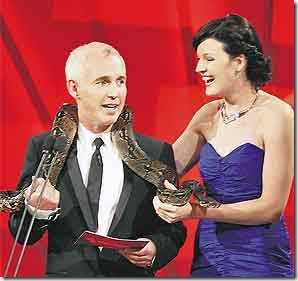 How do the judges judge them?  God knows.
I have my own method.
Would I?
So far I have a shortlist of 0.
Maybe I should lower my standards a bit?
may the question should be 'Would I'?'
And would they not insist on watching The Rose of Tralee year after year?