When I was a lad, we didn't have much rubbish.
All our waste went one of several routes.
Leftover food went into the dog.  Anything combustible went on the bonfire. Anything rottable [I can't bear that word biodegradable – it reminds me of that fucking nancy Duncan Stewart] went on the compost heap.  Milk bottles were left out for the milkman to take back.  After that, there wasn't much left. There would be the odd tin can or jam jar.  A lot of those would be washed and used for cleaning paintbrushes or storing nails.  The paltry pile that remained would go in the bin.
The bin men used to arrive in a small lorry with a sort of semi-cylindrical back.  Doors used to slide up on the side and they would merrily chuck the bin contents in.  There was none of your compressor stuff or hydraulics or anything like that.  They didn't need to compact the rubbish because there wasn't that much.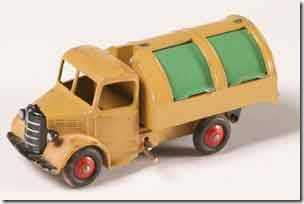 The real ones were a bit bigger [and dirtier].
Another regular visitor to the road was the Pig Lady [Mary Harney's mother?].  She was a large woman dressed in dirty grey and dirty blue who would be slumped up on her horse drawn cart and would slowly amble up the road.  The horse had a bell around his neck so we could all hear her coming.  Anyone who didn't have a dog would bring out their buckets of leftover food and would chuck it in the cart for the pigs.
Nowadays, it's all different.
For a start, we are weighed down with packaging that we don't need.  Tons of cellophane, boxes, cardboard, plastic, plastic and yet more plastic.  You can't buy a simple screw without getting a moxy load of plastic and cardboard to go with it.  Nothing is returnable any more.  Those of you who are foolish enough to abide by the non-bonfire law must be in real trouble. We now throw out about ten times more than we used to in the Old Days.
We have three bins.  A black one and two green ones.  One of the green ones is for paper and cardboard and the like, and the other is for glass. But when you think about it, you don't buy much glass these days?  Maybe the odd jam jar or bottle of olive oil but everything else comes in fucking plastic.  Except of course for booze.  Wine and spirits still come in glass bottles so that must be what the extra green bin is for.
I have never put out my glass bin.  When I am finished drinking my spirits or my stout, I just hand the glass back to the barman to be refilled.
They call around every few weeks to collect the glass bins.  You can tell it's glass bin day by the racket which can be heard from about a mile away.
And I will tell you one thing.
There are a hell of a lot of serious alcoholics in my area.
Heh!