I confess that it is quite some time since I was at a wedding.
Apparently the ceremony is full of new traditions.  Now I always assumed that a tradition was something that has been done for generations, but it seems that the modern wedding ceremony is full of traditions that were dreamt up in the last week or two.
I don't know whether it is a modern tradition or not, but I was a little surprised when in the middle of the proceedings, the priest gave a Nazi salute [complete with a 'Heil Hitler'] and then went on to extol the virtues of the Third Reich uniforms.  I don't remember any mention of that being introduced into the wedding ceremony, but who am I to argue?
A few minutes after that, I swear I heard the priest signing the happy couple into the Roman Legions and pledging allegiance to the Emperor, but I may have been mistaken.
The main thing though is that TAT finally signed that bit of paper.  It has taken a few years, and a lot of persuasion, but he has finally done the honourable thing, so I suppose I can give him those negatives now.  I have no further use for them, though I have kept a couple of copies, just as proof that it is possible to do that to a goat.
There were a couple of anxious moments where the whole thing went belly-up, such as the time near the beginning when TAT did a runner.  Our K8 was a little anxious until we managed to find him hiding in the graveyard.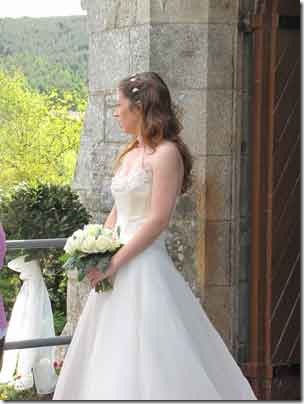 The bridesmaid was TAT's sister, Loopy Loo.  She was a bit hyper before the wedding but we managed to get her sedated and sobered in time, so that was all right.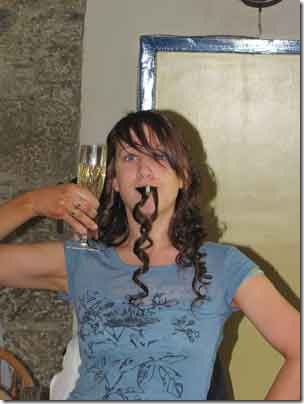 For some unknown reason, TAT and the Best Man turned up wearing skirts.  I think it may have been a ploy to allow him to run faster, but that didn't work.  I had to ask The Question though, and apparently they do.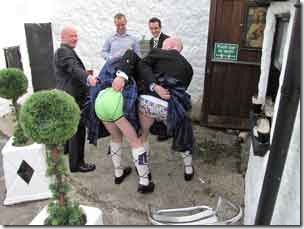 TAT's biker friends all behaved themselves impeccably.  Until they got drunk, that is.  When we left the pub, it was burning merrily and even as I write, I can see the smoke rising beyond the hills.
Herself took a photograph of me after we got home.  I was proud of the fact that I managed to drive that distance with a pint of Guinness in my hand, without spilling a drop.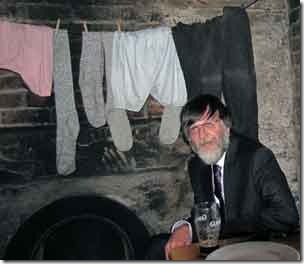 Incidentally, she has asked me to point out that the underwear belongs to Cousin Stacey and not her.
But seeing as we don't have a Cousin Stacey, I think you can draw your own conclusions.