I am sick and tired of the Interweb.
I started to write this morning, and being the conscientious bloke that I am, I decided to research my material.  I went searching the Interweb.
Fucking forget it.
I kept getting blank screens, and when I wasn't getting blank screens I was getting messages like "Google.ie cannot be found.  Are you sure the site exists?" or some such shite.
This has been going on for a couple of months or more now, and I am really getting pissed off.
I went to test my Interweb speed, just in case.  I couldn't load the fucking site!  Eventually I managed to load it and came up with the results that I expected.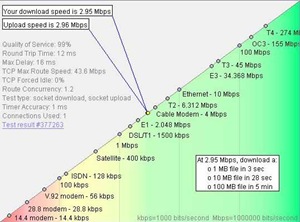 Click to embiggen 
I then tried another site.  It came up with exactly the same figures.  So I tried testing with some foreign servers.  Same result.  For once, my connection is fine, and my service provider has once again escaped a pleasant little chat on the phone.  This annoys me because I like to know where the problem is so that I can eat the balls off complain to them.
If I make any mistakes in this bit of a scribble, I am not going to correct them.  Why?  Because it will take me ten minutes to log into the site.  It will take another fifteen minutes to get the page up to edit it.  Then it will take another twenty minutes to save it again.
My Google Feed Reader is hopeless too.  If I click on a link to see what little gems of wisdom you have all been imparting, all I get is a blank screen.  There again, maybe it's because you have been writing nothing? 
This morning I tried to download a simple filthy perverted hard core update file and it took about twenty minutes.
I have tried everything.
I have talked nicely to my laptop, even though that is against my principles.  I sacrificed a virgin [and it took me weeks to find one of those].  I even paid my bill for my connection and that really went against the grain.
I want this fixed.  What's more, I want it fixed now.
Or heads are going to roll.