English Mum has been nagging me.
She writes a very nice site, which is a sort of foodie type thing that has a lot of recipes in it.
She has been nagging me for the secret of how to cook a guinea pig.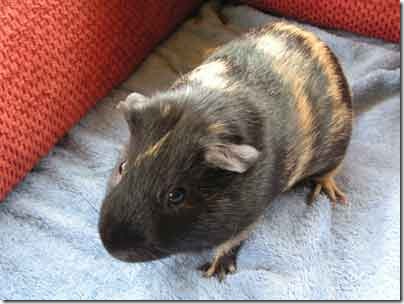 The first thing you have to do is make the stuffing.  You can cheat of course, and buy a packet of the stuff and just add water, but I prefer to do it the long way.
Dice up an onion, and mix with breadcrumbs, a raw egg, milk and a good dose of rosemary and thyme.
When you have a nice quantity [about two tablespoons full, depending on the size of the guinea pig] you stuff the pig.  This is best done from the rear end, and a bit of patience may be called for.  If the guinea pig objects, just tell it to shut up.
Place the now stuffed guinea pig in a roasting pan and place in a pre heated oven at around 180C.
Cooking takes around an hour, and you may want to leave the kitchen at this stage as they can make quite a nasty racket running around the inside of the oven.
It's worth the effort though.