Cowan leads Ireland down the toilet
I came across a little snippet of news yesterday.
Some bloke boldly walked into our National Portrait Gallery and hung one of his own paintings.
Apparently this was a well planned operation, as the framing was consistent with the gallery's style, and he had pre-prepared caption which matched the others in the gallery precisely.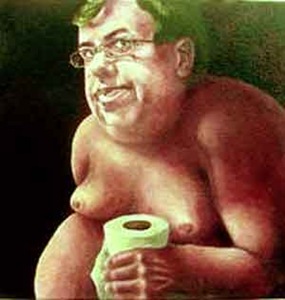 Brian Cowen, Politician, 1960-2008. This portrait, acquired uncommissioned by the National Gallery, celebrates one of the finest politicians produced by Ireland since the foundation of the state.

Following a spell at the helm of the Department of Finance during a period of unprecedented prosperity, Brian Cowen inherited the office [of] Taoiseach in 2008.

Balancing a public image that ranges from fantastically intelligent analytical thinker to big ignorant fucker from Offaly, the Taoiseach proves to be a challenging subject to represent.
Of course, the bastards removed it and are now hunting the perpetrator.  I'm not quite sure why, as he has committed no crime.  Or is there a law against donating a painting to a gallery?
It later emerged that the same artist had struck in the RHA Gallery.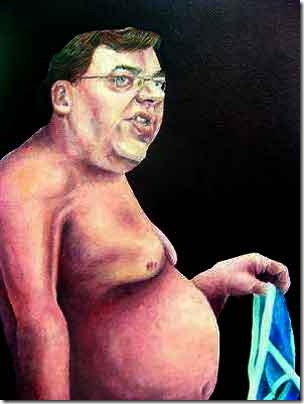 Whoever that bloke is, he's a fucking genius.