At last the snow is beginning to thaw.
I love snow, but you can have too much of a good thing.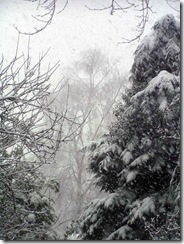 The Manor at the height of the blizzard
I went out yesterday and did a survey of the estate to see if there was any damage.  There was surprisingly little.  Normally we lose a tree or two under the weight of snow but this year we just lost a few branches.
There was one place where there had been a bit of a avalanche.  A couple of tons of snow had slid down onto the driveway, demolishing half a hedge in the process.
It was while I was poking around the detritus of the avalanche that I noticed a foot sticking out of the snow.
Needless to say, I went into a panic and frantically dug away the snow.  My suspicions were confirmed – it was the postman.
I cleared away the rest of the snow, and found what I was looking for.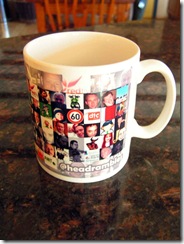 I had been expecting that mug.  It is one of AJ's and it's lovely.
It's a Twitter-mug that I won in a raffle held by McAWilliams.
It has my Twitter name on it and the icons of all my 'followers'.
If you are really that jealous, you should head over and order one of your own!
As for the postman?
Unfortunately there isn't another bin collection until next week.