I think our Minnie was out on the piss on Sunday night.
She was very quiet yesterday for a change.
Last night, she sat on the back of the couch, staring at Sandy who was just lying there minding her own business.
She thought for quite a long time, and I could see she was hatching some kind of plan in her pea-brain.
Next thing, she pounced.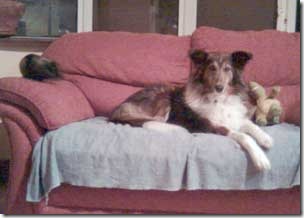 I didn't have my camera with me, so I had to rely on my phone.  The pictures are not good.
She arrived at Sandy's level, and happily sat down to eat Sandy's tail.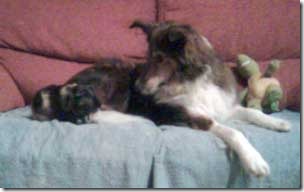 Sandy has a fine tail that ends in a snow white fan of fine hairs.  Soon Minnie had a mouthful of them, and she chewed away quite happily.
Luckily Sandy didn't seem to be too bothered.
Is this a good example of "the hair of the dog"?