Ireland's most cantankerous Auld Fella
Things are progressing.
The Book is going off to the printers tomorrow.  I shall be at the station to wave it off on its journey.
A final decision has also been made on the cover….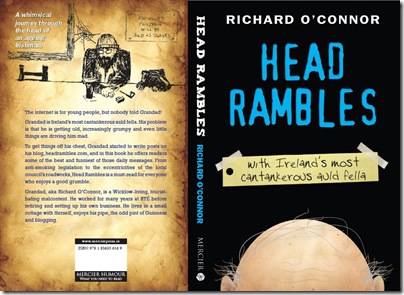 You can click on it if you want to see the larger version and read the blurb.
The sketch on the back cover is a doodle our K8 did one day.  She wasn't that happy with it, but I was, so I sent it to the publishers.  They loved it, and there it is.
I didn't like the cover initially, but it is growing on me, along with the moss and the ferns.
I'm still not sure about the bald head, as baldness doesn't run in the family, but it will help when it comes to dodging the paparazzi in the future when I am world famous ["That can't be Grandad – he has a full head of hair"].
I'm also a little annoyed that they have taken my name off it, yet The Other Fella who only does my typing gets his name right at the top.  Fuck him.
And what is this shit about "Ireland's most cantankerous Auld Fella"?  They have a fucking nerve.  Bastards.
All in all, apart from those little errors, I think it is a good design.
In fact, I think the cover alone is worth the price, and to hell with the contents.