Yup.  I trust Tommy.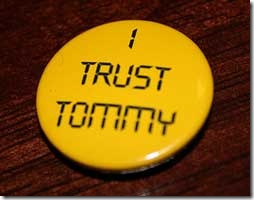 Who is Tommy?
Tommy must be Ireland's youngest blogger.
Don't go running away just yet.
He may be 14, but he ain't a Bebo writer.  In fact, if he didn't mention his age, I would have said he was twice that.  He is a damned fine writer.
I often wondered about the age range of bloggers.  Am I the oldest?  Is Tommy the youngest? 
Maybe I can be Tommy's virtual Great Grandad?