One of the many things that baffles me about modern society is peoples eating habits.
There was a time when eating was something we did at mealtimes.  Three meals a day and that was it.
Nowadays, it seems to be compulsory to eat at all times of day and night.
It is almost impossible to walk the streets without seeing someone walking along with a can of liquid sugar in one hand and something greasy in the other which they stuff into their mouths as if their lives depend on it.
Television is full of advertisements for crisps, chocolate bars, chips, pizzas and worst of all, burgers.   What is this thing about snacking?  Why do we have to stuff our faces all the time?
Last night they were waffling on about obesity in the news.  That is to say, the news wasn't obese; they were just talking about it.
Apparently two thirds of the population of Ireland is now overweight. And if that isn't enough, a quarter are obese.  This is scary.  These people are not only heading for heart attacks, but are lining themselves up for diabetes and even cancer.
It is interesting to note that despite the massive problems with future mortality, the government aren't banning eating outdoors.  They aren't restricting sales of fast food.  They could do it with the smokers, but not the eaters, apparently.  Our government, in it's usual cack-handed fashion is muttering about regulating the amount of sugar and salt in our food, for fuck's sake!!
Most of the blame lies at the foot of fucking McDonalds, Burger King and all the other fast cholesterol  take aways.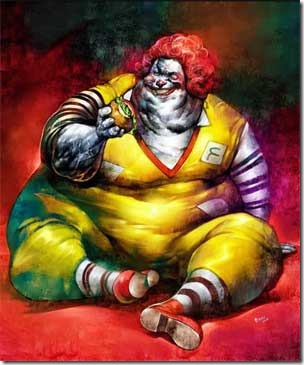 What is our government doing about this?  Nothing.
They are talking about their sugar and salt restrictions, which is about as much use as a fart in a gale.  Why aren't they restricting the number of fast food outlets?  Why aren't they educating the children [and their parents]?
Maybe we should take a long hard look at Harney [not easy, I grant you] –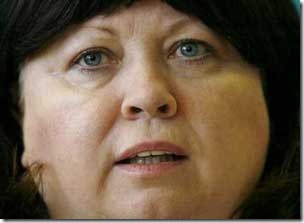 Our Minister for HEALTH?
A great example?
No?