It's a miserable day outside today.
It isn't even November yet, but yesterday it snowed, and today it is cold, grey, wet and windy.
I have the central heating on.  To top it up, I have the portable gas fire running too.  Despite the double glazing and the insulation, I still have a chill in my feet.  I suppose it's old age again…
We last got a fill of oil in Spring, but the light on the gauge is flashing, which means we are down to the last bit, and it's nearly time to order again.
One of the great imponderables for a retiree is the future cost of heating oil.  Is it going to get so expensive that it becomes a luxury rather than a necessity? 
But now I'm starting to wonder just how much a necessity it is?  If we had to do without it, life would be damned uncomfortable, but would it be fatal?
Fifty years ago when I was growing up, central heating was something you would find in school, or some other institution.  It usually consisted of massive four inch iron pipes running around the skirting to huge radiators.  Out the back, you'd find the boiler house, which was coal fired.  Domestic central heating was unheard of.
Our house was a fairly ordinary house.  It had fireplaces in each room, but the upstairs ones were never lit.  Heating consisted of a coal fire in the sitting room and a small cast iron range in the kitchen.  For spot heating we had an old portable paraffin stove that was dragged out if someone was confined to bed, or whatever, and a couple of electric heaters whose elements were always burning out.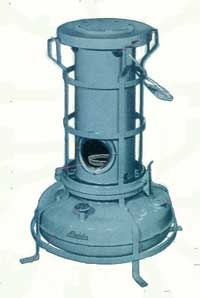 Winter night times were the worst.  The bedrooms would be colder than a politician's heart, and we would wear our socks to bed.  There were plenty of hot water bottles and if the worst came to the worst, I used to rob my father's overcoat to throw over the bed.  Frequently in the mornings, ice would have formed inside the windows.  Double glazing was another invention of the future.  We put up with it and made sure all doors were closed at all times.
It was uncomfortable all right, but as there was no alternative, we didn't complain.  We were also a hell of a lot tougher and healthier.
I often wonder what would happen if the modern generations had to put up with the life we had? 
Doubtless there would be endless complaints.  They would cry that they can't possibly live under those primitive conditions.
Wimps.