There used to be a railway between the village we stayed in in France, and the town about five kilometres away.
I know this because there is the remains of a station in the village, and there is a magnificent five arch stone bridge that spans a valley.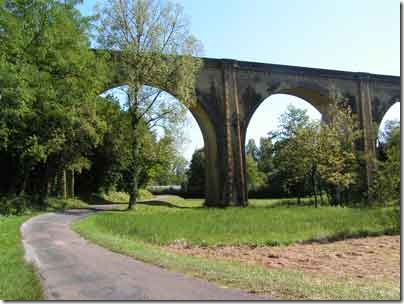 One day, I was driving into town and was following Roger's instructions on the SatNav to the letter.  We were driving down a valley when I first saw the railway bridge.  It's a beautiful structure.  I was driving under it, when to my surprise, Roger told me to turn right.  For once, I ignored him, as I would have smashed into one of the arches.  There was no road there – just the railway a long way over my head.  I put it down to Roger's quirky sense of humour and he soon got over it and brought me into town.
One night, I was coming back from town, and had decided to find some alternative routes.  Roger brought me through some back streets and up some hills, when suddenly I found myself on this stretch of road I hadn't encountered before.  It was absolutely straight and level and ran for about three kilometres.  It was lovely to drive on, and I got up a good speed.
I was pissing along, when the road narrowed slightly and low walls appeared on each side.  Roger demanded that I turn left.  Why?  There was no turning, just walls.
I stopped the car out of curiosity, and got out.  It transpired that the French in their infinite wisdom had converted the old railway line into a road.  They are too sensible to fart around with light rails systems or anything like that.  They just slap down a layer of tar and voila – a road.  I found myself standing on top of the stone railway bridge, that was now a road bridge.  Way down below me, on the bottom of the valley floor was the other road that I had driven in the past.  So Roger wanted me to turn left onto that road?  The little shit!  Does he not know that driving a car off a bridge sixty feet high is going to cause some damage?
He has tried these tricks before.
He keeps trying to get me to drive the wrong way down one way streets.
Once or twice he has tried dumping me into a river,
But driving me off a bridge is going too far.
About sixty feet too far.