About a month ago, I got a text message on my phone.
There is nothing particularly unusual about that, as I get a lot of them. They usually say things like "Ur babysitting 2nite. We're arriving in 5 mins".
This one was from O2. They write to me sometimes, saying what a great chap I am, and here's five free texts in gratitude for my custom.
This time, they wanted to give me a free SIM pack for my friend.
This was a bit confusing, because they didn't specify which friend. They just just said "your friend". Are they assuming I only have one?
I decided to accept their offer for a couple of reasons. One was that I was curious whether they would would specify which friend. I was interested to know whether they would prefer Pullit over Spanner. Would they remember Stony? The other reason was That I had heard that it was a good game. I always fancied running a little virtual community.
I forgot all about it until a little package arrived the other day.
I was disgusted.
First of all, it wasn't a game at all. And they never did specify the friend.
All it was was a thing like a credit card with a bit that breaks out.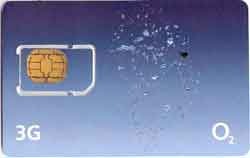 I broke the bit out, and stuck it in my phone, as they suggested, but it refused to work. It said it was locked or something. I took it out again. Anyway, it would have changed my phone number, and it has taken me over ten years to memorise the one I have.
And what is this "3G" thing? They seem very proud of it. I looked through the phones on their web site, and they all said 3G – no. So whatever it is, their own phones don't work with it.
I hate the name O2. It's a fucking stupid name. It doesn't mean anything [two atoms of oxygen?]. I cringed when they renamed the Point Depot.
Now they have 3G. What in the name of all that's holy is that? It isn't even an atomic structure.
So now I have a credit card with a hole in it, and a little chip of plastic with a gold badge.
And they have added 3G to my list of things that confuse me.