How to make friends and influence people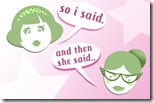 Did you see that wans blog? Talk about having nothing better to do with her time…..
She clearly HASNT. GOT. A. CLUE.
Probably best to ignore her and her petty ramblings.
Seriously though like for her to go on like that GRRRR
Terrible thing when you have to steal posts from one blog to fill up your own…. evidence of nothing worthwhile to say…and, imagine calling yourself something in text-speak…
Heh!