Bugger me, but I'm getting old.
I woke this morning at seven [that's part of old age – waking early].
I was pottering around the kitchen, when the door handle to the lobby started rattling. The door can be a tad stiff at times, so I opened it. There was Puppychild, looking all fresh and perky.
"Good morning, Grandad" she said with a cheeky little grin.
"Good morning," I replied [my mother taught me to be polite], "and how are you?"
"I'm fine," she said, "are you OK?"
"I'm grand," says I, but I felt old.
So we had a fine conversation about the weather and the state of the world.
Later she asked if she could watch cartoons on television. I tried not to be old and narkey, so I let her.
Those cartoons drove me to the pits of despair. It is no wonder that modern children all talk with American accents and use the most appalling slang. The characters were saying things like "awesome" and "todally radigal" every two seconds. The advertisements were even worse. I felt as old as the hills.
Later, Puppychild spotted a pack of sweets high on a shelf and demanded them. I don't know how she spotted them, as the shelf was in the lobby where it is dark, and even I had difficulty seeing them, and I'm over twice her height. I refused her the sweets, as it was too early in the day, and I felt very old.
She is a forgiving child though. I made her some toast instead, and she is now on the floor at my feet doing a jigsaw puzzle.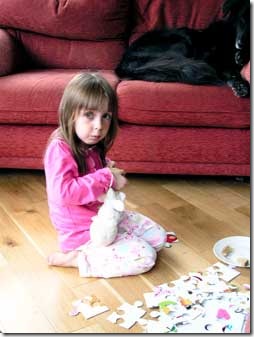 She is disapproving of cameras.
I like being a Grandad.
In fact, I like being old.