It was a long time since I had a good game of golf.
Yesterday, it struck me as being the perfect chance for a round.
We have had a very unseasonable period of very dry weather, and there has been a lot of sunshine.  Also we have had a couple of visits from our K8's dog Wouldya.  The material was plentiful and in perfect condition.
I was sorry last night to see Bock launch such a vitriolic attack on such a fine game.  He has obviously never played the game properly, as the satisfaction of sending a quarter pound dog turd flying in an open car window has to be experienced before the true subtleties of the game can be appreciated.  I must invite him for a round sometime.
I had a fine time.
My golfing skills have improved immeasurably.  Using a driver, I was able to sail turds off into the next parish.  Using my irons, I was able to loft magnificent examples of dog excrement into the various neighbouring properties.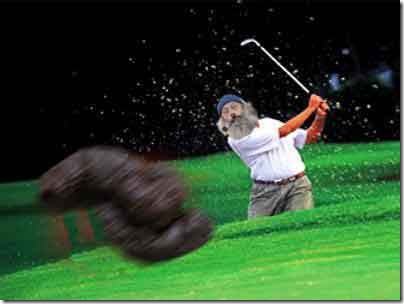 I didn't score any eagles or albatrosses.  I did score a magpie, which surprised him no end.
Incidentally, I have a little message for my neighbour.
I hope you enjoyed your barbeque.  It smelled delicious from my place.
One thing though.  That large frankfurter….  I'm not quite sure how to put this…. It wasn't a frankfurter.  It was a rather neat shot from beside my pond.
I hope you enjoyed it.
I did.