What have we done to the Gormleys that they are inflicting the dimwits of their family on us?
First we have to contend with John 'Gormless' Gormley and his pathetic 'Greening' of the government.
Now we have to put up with another monstrosity, again inflicted on us by a Gormley.
Apparently the green [sic] light has been given for a hideous eyesore to be dumped in the Liffey.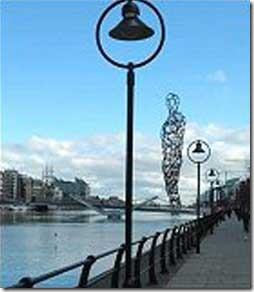 I don't mind statues. I can take 'em or leave 'em. But when the fucking thing is 46 meters, or 150 feet high there is no getting away from it.
I think it looks terrible. It dominates the whole skyline and looks oppressive. It says nothing to me. It merely represents an ego trip for the artist who has modelled the form on himself. If it were a water feature that ejected water from roughly half way up, I would say that it is representative of the modern Irish.
Could someone please tell me what it is for [apart from wasting €1.6 million of our money, of course]?
Unless, of course it is Irelands answer to The Wicker Man, and they are going to stuff it fill of all the drug dealers, crime barons and other politicians, and set fire to it?