Get me out of this S.H.I.T.
Things are not going well at Silver Haired Internet Technologies.
For those of you who have joined recently, my friend Ron helped run a web company.  There was an unfortunate incident, where I accidentally shot Ron, and he went off to Thailand in a huff.  Or maybe he flew.  Who knows?  He is now living the happy life addicted to sex, sunshine and exotic smoking, and has no intentions of coming back.
It's a long story, but I had to form S.H.I.T to cover the accident, and I have been trying to cope ever since.
It's doing my fucking head in.
Ron designed a web site for a company.  He did a great job, and the company were delighted.  They were able to update their own site and everyone was very happy.  Ron liked them and trusted them so he gave them access to the server so they could set up their own emails and crap like that.
Then this company sold out.  They sold to a crowd from somewhere foreign.
The new crowd settled in and decided to make their mark on the web site.
The first thing they did was to remove the old site, and replace it with a horrible site of their own.  It's a nasty looking site and it is impossible to find anything on it because it is HUGE.
The next thing they did was to go mad on the emails.  They made dozens of addresses.  Then they made dozens more that pointed to the others.  So now when a mail arrives there, it heads off on a loop of addresses being redirected here, there and everywhere, without actually finding a mailbox anywhere.  It's like Spaghetti Junction in there.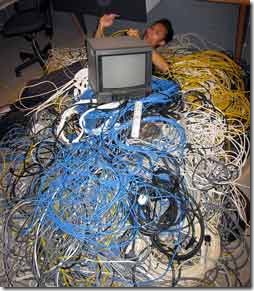 Now they keep ringing me, because they are in a mighty mess.  They expect me to fix their tangles.  They can fuck off.  I can't understand them most of the time because most of them don't speak English.
They rang me this morning.  They aren't getting any emails from HP.  So?  I don't get emails from HP, and I'm not complaining?  But apparently this is upsetting them.  If they did get any mails from HP, I would say those mails are on their server at this very moment, flitting around from address to address frantically trying to find their way out of the maze.  I have never felt sorry for an email, but there is always a first time.
Of course I told them to fuck off, but they didn't understand me, so that's all right.
I never mentioned what this company did for a living.
They are a computer training company.
Hahahahahahaha.
Oh God!
Sigh.