I have decided to take the plunge.
I have been toying with the idea of buying a Satellite Navigation System for some time now.
I am not one for 'Toys for Boys' and am usually wary of gimmicks.  I have had my mobile phone for about eight years now and have no intention of upgrading it.  I don't have a flat screen television or any of those console things.
Driving down the country last week though, I was convinced.  Our K8 lent me her SatNav [I hate these abbreviations] for the journey West.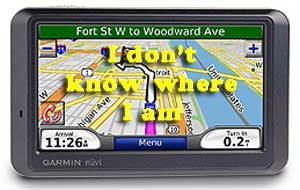 Two things convinced me.
The first was that I hadn't a clue where I was half the time.
I have been travelling the highways and byways of Ireland for nearly sixty years.  In all that time, there was a comfortable familiarity in all the towns and villages.  I always knew where I was.  I knew every stretch of main road in the country, and apart from the odd bit of road widening, everything remained the same.
Now it's all fucking motorways.  I haven't a clue where I am.  I get lost going up to Dublin.  I usually end up getting dizzy from circling endless roundabouts, trying to find my way out of the maze.
The second thing that convinced me is that they are fun.
We were travelling back from Galway on the old main road.
"At the next roundabout take the second exit" said Yer Wan in the SatNav.
I came to the roundabout and there was a new exit that led to a new stretch of motorway.  I remembered that from before.  So I took the third exit.
The little car on the screen took the second exit and then realised I had misbehaved.  So it did a wobbly and settled onto the road I had now taken.
"Wrong exit," said Yer Wan.  "Do a U-turn now!"
"Fuck off," says I.
"Do a U-turn NOW!!"
"Fuck off," says I.
Yer Wan sighed and thought for a moment.  She thought I needed placating.
"Drive for 120 yards and do a U-turn," she said sweetly.
"Fuck off," says I, as I swung onto a roundabout and entered the slip road for the new motorway.
This completely confused her.  As far as she was concerned, I had just driven into a field and she didn't like that.
"DO A U-TURN NOW!" she screamed.
"Nope," I replied as I brought the speed well over the speed limit and barreled along the new stretch of motorway.
The little car on the screen was now suspended in space.  She hadn't a clue what was going on.  She got frantic.
"Head for the nearest road," she implored.
I increased my speed a bit.
The SatNav burst into tears.
She kept trying to send me across the fields to adjacent roads, and I kept ignoring her.  She was in a bad way, and was obviously having a nervous breakdown.
Suddenly, on the screen, I saw an older stretch of motorway appear, and I was heading straight for it through thin air.
I entered the older motorway at about 140, and I heard an audible sigh of relief from the SatNav.  "Continue on this road for 50 miles," she said in a how-the-fuck-did-I-get-here kind of voice.
I behaved myself after that, but I could tell she was nervous.  She had been outwitted and she didn't like that.
So when my SatNav arrives, I'm going to programme it to go to London.  Every journey.
I want to see how long it takes to drive a SatNav insane.