The building industry – boom or beep?
For a long time now, people have been talking about the building boom in Ireland.
They are, of course talking about my little corner of the mountains.
For the last two years or so, there has been constant building and as a result there has been a steady stream of lorries delivering blocks, girders, and concrete.
That is all very well, but why the fuck to they have to go beep beep beep when they are reversing? Because our lane is narrow, they have to do a lot of reversing and it is driving me up the walls [the old ones, not the new ones].
One of the concrete delivery lorries stopped at my gate yesterday and the driver asked me the quickest way back to the motorway. I suggested the Old Quarry Road.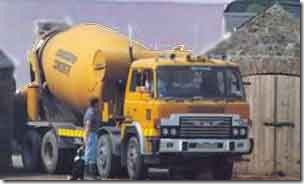 The Old Quarry Road is, surprisingly enough, a road that leads to our local quarry. We call it the Land Fill now, but it was a quarry. One day, many years ago, in a fit of overenthusiasm they blasted back the quarry face and removed a fair chunk of the road. So the road now ends in open space. There is a hundred foot drop to the quarry floor where there is now a pile of old wrecks, mostly with foreign registration plates.
They put up barriers and warning signs, as the road is extremely dangerous. Of course, we removed all the barriers and warning signs, because we know about the road and don't drive down it. It has become our favourite spot for luring boy-racers and [naturally] tourists.
So my friend the concrete lorry driver thanked me for giving him directions to the local 'short cut' and sped off hoping to get home for lunch, or something.
I heard the crash from here. It was quite spectacular. It must have been quite a site – several tons of lorry dropping a hundred feet onto a pile of old cars.
But the beeping is still driving me mad.
I'd love to find the bloke who came up with that idea of the reversing beep.
I'd bury him up to his neck in quick drying concrete and play Daniel O'Donnell at him.
I wonder how he'd like that?