There is a brilliant site Out There. It's called Men With Pens.
If you are interested in writing at all, then it is more than worth a visit.
It is a huge site, packed with great advice on everything from blogging to fiction writing [is there a difference?], and I have spent the last few weeks trawling through it, getting some great advice and ideas.
They wrote about this site yesterday.
They were not kind.
I was glad they didn't spare my feelings, because their advice was unbiased and excellent. They made very good points about my design and layout. I haven't been happy with it for a while, and didn't know why. Now I do.
They pointed out that a banner showing burning cars and guns and the word 'Irish' may be misconstrued. That had never occurred to me, but they're right.
They said they didn't know what the site was about. That's OK, because I don't either.
They really hammered my sidebar. Too many links. Too many categories. Too much crap. They're right. It all has to go.
The only problem is where do I put it all? Some can go out for the bin men [more landfill] but it's churlish not to have links to other sites. So maybe I have to create a series of extra pages?
One way or another, over the next few weeks, I'll be tinkering around with the design and things will be disappearing and reappearing and generally confusing everyone.
Eolaí obviously read my mind this morning and posted up this……..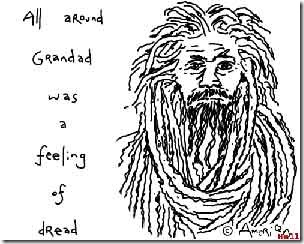 Nice one, Eolaí!
Incidentally, when they were over here, Men With Pens shot Father Murphy. I don't know why. I suppose they thought he was me. They are a callous pair.
Now I have to find a substitute, otherwise all the devout non-atheists will be down my neck, next Sunday.
I know a bloke who knows a bloke who knows a bloke who knows a Rabbi. Maybe he'll step in?
I'm sure they won't notice the difference.