I entertained a president
We are coming up to the 200th birthday of Jefferson Davis. It's on June the 2nd.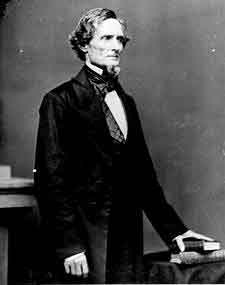 Jefferson Davis was the Confederate President over there in America. A lot of Americans didn't like him for that.
After the Civil War, they told him he could never run for president again.
In a strange twist of humanity, they removed that ban thirty years ago, so even though he is dead for 119 years, he can now stand for the presidency again.
He came to visit me yesterday.
We had coffee in the village. It was a bit crowded as we had most of the Irish Army there too. I'm not sure whether they were there to protect him, or to keep an eye on him.
For a bloke who is nearly 200 years old, he is remarkably well preserved. We had long chats, and then I fed him full of Guinness. We entertained him at Head Rambles Manor and allowed him watch Dustin being thrown out of the Eurovision. It was a great honour for him and for Dustin.
Afterwards, our K8 brought him for a drive up to the bogs, and she left him there.
He's a nice bloke, but he's American.
And even though he's a president, we can't make exceptions.