Some of you may have been wondering what that yoke is on my side bar?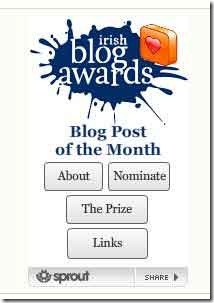 This is Damien Mulley up to his tricks again.
Is there any limit to this bloke's ideas?  He is giving an award for Blog Post of the Month, every month.
I think it is a great idea, because it gives everyone an opportunity.  I have nominated one or two posts [not any of my own, I hasten to add] and I hope they are in with a chance.
I got the badge from Le Craic [with permission] and I think it is a great piece of work.
Unfortunately, I have one or two problems with it.
It is in Flash, and Flash is something I'm not fond of.
I'm a modest bloke, and it does somehow look like I'm pimping for a nomination.
It takes up quite a lot of space.
It's a pity, because I really like it.  It has everything, like a mini web site.  A brilliant piece of work.
But I think I'll replace it with something a bit smaller.
When I can get off my arse to do something.