Is the Lisbon Treaty a con?
"France was just ahead of all the other countries in voting No. It would happen in all Member States if they have a referendum. There is a cleavage between people and governments…There will be no Treaty if we had a referendum in France, which would again be followed by a referendum in the UK."
– French President Nicolas Sarkozy, at meeting of MEP Group leaders, EUobserver, 14 Nov. 2007
"Public opinion will be led to adopt, without knowing it, the proposals that we dare not present to them directly … All the earlier proposals will be in the new text, but will be hidden and disguised in some way."
– Former French President V.Giscard D'Estaing, Le Monde, 14 June 2007
"The substance of the Constitution is preserved. That is a fact."
– German Chancellor Angela Merkel, speech to the European Parliament, 27 June 2007
"The Constitution is the capstone of a European Federal State."
– Guy Verhofstadt, Belgian Prime Minister, Financial Times, 21 June 2004
–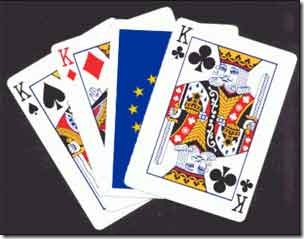 I have been doing my best to understand this damned Treaty of Lisbon.
If it is so good for us, then people should be shouting the benefits from the rooftops.
Instead all I hear is the things it won't change.  Why are we voting for something that won't change anything?
The Governments chief argument seems to be that we must vote YES otherwise Europe will think badly of us. That is the most pathetic reason for a vote ever.  I could argue that a NO vote will earn us the eternal gratitude of every other country in Europe, as they don't get a say.  They are relying on us.
I have read other peoples' analysis.  Sara Carey has had some good debating on her site, and Darren has been doing some excellent detailed research.
The result seems to be that the EU is simplifying things.  But if they are simplifying things, why is it so damned complicated?
I'm a great believer in gut feeling.
And my gut is screaming like it does after a feed of bad pints of stout and an over-ripe Vindaloo.
Something is very wrong somewhere.