I accidentally went into my spam mail yesterday.
I was about to click out of it again, but one mail caught my eye.  I'm not sure why.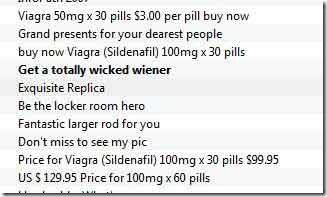 "Get a totally wicked wiener"
What the hell does that mean?
I know what 'totally' is supposed to mean.  It's that word that is totally overused and is so totally ignorant sounding in any context nowadays.  I presume it crept into modern parlance through one of those ghastly American comedies like 'Friends' or 'Sex in the city', so everyone pronounces it as 'todally'. It has become as ubiquitous as 'like' [or 'loike'] and has to be scattered like thistledown through every damned sentence these days. This just makes me want to smash the speakers teeth back through their tonsils.
'Wicked' means evil or bad.  We all know that.
But what the hell is a 'wiener'?  I had to look that one up.
Apparently it is either a hot-dog or a German word for a Viennese.
I presume these people aren't trying to sell me hot-dogs through the Interweb, so it can only be a Viennese.
Why, in the name of all that is holy, does someone want me to have an evil person from Vienna?  Is this some new European law that we all have to adopt a criminal from another country?  Is it some new fashion statement like a replica Rolex watch?  Is this the new 'must have' [another horrendous contemporary cliche!]?
I did send off for the 'fantastic larger rod' though.
I believe fishing is a very relaxing pastime.