I like nature.
I love the sound of the birds and the hum of the insects.
I never kill anything unless it is a tourist. Or a wasp.
Tourists are irritating feckers who clutter up the place and make the countyside look untidy. Shooting them is good sport.
But I cannot for the life of me understand wasps.
What are they for?
I have always hated them and they are the only non-human life form I go out of my way to kill.
I will go out of my way not to harm Just about any other species. I'm not saying that if I found an homeless Ebola virus, I would offer him accommodation, but you get my gist.
I am forever carefully carrying out spiders, moths and other life forms from the house and setting them free.
When I see a wasp, I see red. Or rather, I see black and yellow and automatically reach for the swatter.
This weather has brought them out in their droves. The queens all seem to be looking for nesting places, and I am massacring them at the rate of several a day. I get a kick out of the thought that killing one queen eliminates thousands of possible future generations.
I was stung by wasps as a child. But I was also stung by bees, horseflies, nettles and jellyfish, so that argument doesn't work. I always treat bees with great tenderness, because I like them.
They say that God gave us friends by way of an apology for giving us relatives, but what are wasps here for?
And why is it that when I smash another wasp against the window pane, I often think of Mary Harney?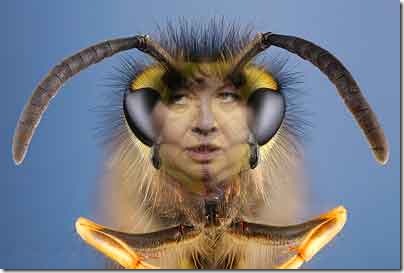 Big fat ugly useless creatures.