To those of you not familiar with Irish weather, we have two kinds of summer here.
The normal summer lasts from May until September. It is typified by grey skies and rain. Occasionally, it stops raining for a couple of days, and we call that a drought. That is when the hose-pipe bans are put in place and we are asked to conserve water. People complain about the cold and the rain and the standard greeting in the street is "are we ever going to get a summer?" The rain is invariable at its worst when there is an open air concert planned or when people book their annual leave.
The other is a rarity and it is what we call a heatwave. This is when the sun shines and the temperature rises above 16 degrees.
During a heatwave, everyone goes mad and goes around wearing next to nothing. They complain about the heat and how their gardens are drying up. On the rare occasions when heatwaves coincide with weekends, they pile into their cars and all head for Brittas Bay. When they get there, they complain about the crowds, and then on the way home again, they complain about the traffic jams. After two days of this they are muttering about how they wish it would cool down a bit because the heat is killing them.
Heatwaves usually occur in the lead up to the end of year school exams, thereby ensuring that no study is done. They also usually occur mid-week, when everyone is at work anyway. They rarely occur when people take their annual leave.
We are enjoying the End of Year Exam Heatwave at the moment. It is expected to last until Thursday. But then it may end tomorrow, or Friday. It's unlikely to last until Saturday, because people will be off work then. Heatwaves rarely last more than a week. Another one should be due at the beginning of next month because that is when the exams actually take place.
Unfortunately, this time, the heatwave coincided with a bank holiday. This led to the entire transport infrastructure grinding to a halt as everyone frantically headed for the seaside. Rumour has it that nobody actually reached the beaches at all. They just sat in their traffic jams until around mid afternoon when they all turned around and went home in disgust.
I stayed at home and did some gardening. The estate was getting a bit out of hand as it has been sopping wet up until now. I actually managed to get the grass cut, and made a respectable little pile of grass cuttings.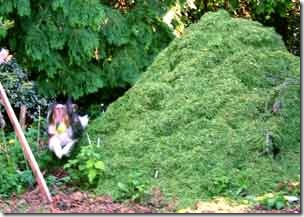 That blur on the left is Sandy. She is ambushing me for a game of tennis.
I'm sorry about the quality of the photograph. I forgot to set the camera for sunlight, because it's a setting I rarely use.