Big Brother – Just Imagine
Big Brother is alive and well.
And I'm not talking about some crappy television program.
I'm talking George Orwell and 1984.  He was 24 years out.
I checked a friend's blog at Rantings Diversified.
Apparently, he has been blocked by Imagine.ie, so none of their clients can reach it without disabling a filter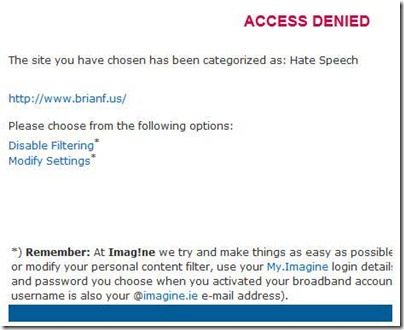 I have a couple of questions I would like answered.
Who gave Imagine permission to dictate what is appropriate on the Internet?
What are their criteria for deeming a site inappropriate?
Who gave them permission to block a site without the client's consent?
I know the site that was blocked, and I know the bloke who writes it.  He can be outspoken in his writings, but so can a lot of us.  He was barred for this. [and I'm not taking the risk of being banned as well!!]
Is Imagine doing the American Government's dirty work for them?