It was a lovely day yesterday, so I decided to cut the grass.
We gave a lot of grass here, and we also have a lot of lawn-grass.  There is the front lawn, the main lawn and the orchard.  I don't bother mowing the woodland or the pond.
It is a good many months since I cut it, so it was full of twigs and branches from the trees, rocks and stones from that fecker Woodya, and of course, a whole lot of dog shit.  Or even a hole lot of dog shit.
I picked up the twigs and the branches and the rocks, but  I was damned if I was going to pick up the dog shit.
Out with the golf clubs.
I had a fine time.  Most of it was Wouldyapoo, because Sandy is discreet and only craps next door, and Wouldyapoo is large and weighty.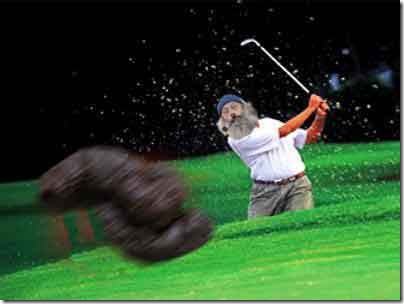 The Next Door Neighbour doesn't know yet about his housewarming party tomorrow night.
He was in his back garden yesterday with a couple of young women.  I don't know if they were friends, or whether he hopes to sell or let the house.  I didn't ask.  Frankly I didn't know they were there until the first scream.
Apparently one of the young women was just about to go in the back door, when a rather large turd splashed across the door in front of her nose.  It was unfortunate timing.
Even more unfortunate was when later the other young woman stuck her head out a window, and I got a bulls-eye.  Or should I say a girls-eye?  Leastwise, she suddenly developed a tan she hadn't planned on.
They left in a hurry.
I seem to have developed a rather nasty slice.
Does anyone know anything about golf?
How do I cure it?