Bertie Ahern vs The Mad Cow and Gormless
Fist there was Bertie Ahern,  Graduate [suma cum laude] of the Haughey School of Economics.  He is an expert on deviousness, obfuscation and outright lying.
Then comes Mary 'Mad Cow' Harney.  Desperate for power, she politically distances herself from Ahern, and then crawls up his arse to support him in any way she can.
Finally we have John 'Gormless' Gormley.  Also desperate for power he allies himself with Ahern, and [like Mad Cow] decimates his party in the process.
If Ahern is the captain of the Titanic, then Mad Cow is the First Officer, and Gormless is Junior Petty Officer in charge of light bulbs.
Mad Cow and Gormless have finally realised that they have been sailing through the ice pack for some time and maybe it's time to speak.
Do they ask the Captain to slow down?  No.  Do they ask him to keep a better watch?  No.  They demand in the severest terms [but only if he feels like it] that they would like him [if it's not too much trouble] to just mention [if he has a minute] why they are on the course that is set.
The iceberg they are heading for has half a million Euro written all over it.  But when you see an iceberg, the vast majority is still hidden deep in the murky waters of bank accounts, offshore investments and cash in the mattress.
Bertie is saying he will explain all when the Titanic arrives in New York.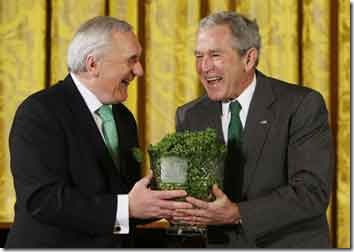 ..and then I left the cunt to take the flak while I came over here!