So John Gormley Gormless, our dear Minister for the Environment and Limp Lettuce Leaf has spoken yet again.
Forget Al Gore.  Forget the Kyoto Protocol.  Gormless is single handedly saving the world from Global Warming all by himself.
He is taxing high emission vehicles.  He is banning patio heaters.  He is banning incandescent bulbs.
He is now asking us to stop drinking bottled water.
You see, bottled water comes in plastic bottles, and they are causing havoc.  We use too many of them.  We must drink tap water instead because it is just as good.
Let's wind the clock back to last summer, John.  Do you remember Galway?  Do you remember how Galway city and half of East Galway County had infected water that was undrinkable for months?  You must have forgotten about that.
But do you remember back to more recent times, John?  In fact it was only three weeks ago that you were worried about a report that said that 36% [yes – over a third] of our water supplies were hazardous with cryptosporidium or E.coli.
However, I suppose poisoning a third of the population is a small price to pay so that Gormless can feel he is pushing the green agenda.
So I ask you all to raise a glass to John.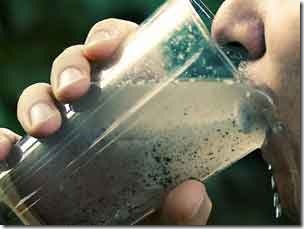 Sláinte.
[which, in case you have forgotten, John, translates as 'Health']