This is a message to the people of Chicago.
I am very sorry, but you have to go.
I know Chicago quite well, because many years ago I used to play around with Flight Simulator.  I used to take off from Meigs Field and buzz around your fine city before crashing somewhere.  I'm sure you saw me, many times.  But now you have closed that fine air-strip.  Bastards.
But that isn't the reason you have to go.
I hate spam.  In the normal course of events, I ignore it and let it quietly burn in my various spam traps  and spam filters.
Lately however, I have been inundated with crap from someone who calls themselves Sweetpea.  My blog is inundated.  My e-mail accounts are inundated.  And frankly I'm pissed off.
Sweetpea is trying to pretend they are Canadian, but they're not.  I have the address of the Chicago Gangsters who are hosting their mail account –
FastServers,  Inc.
175 W. Jackson Blvd
Suite 1770
Chicago
IL
60604
US
So this is the address I have programmed into the ICBM [with 2 Megaton warhead, DVD rewriter, 180Gb HDD with Windows Vista] that I bought on eBay last week.  I shall be launching it shortly.
I know the place well.  I have crashed into it many times.  I shall miss it, and I shall miss Meigs Field.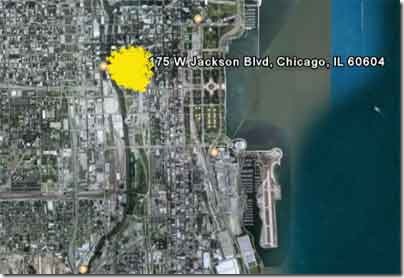 We had some good times together.