Guest Post – Sandy talks about herself
Hello ereodvbyy. My name is Snadyy and my daddy, Gnadard is ltnetig me wrtie tdaoy.
My feinrd Wjodoa wotre and aeksd me to tlel you some tginhs aubot mlseyf.
You will have to eucxse my wnitrig. My grmaamr and puciounttan are good but I hvae dfiuftcily sillepng.
I dnot know who my real mmmay and daddy are basuece I never met them. I dont mind tohugh beuscae I lvoe Gandard and Gnanry vrey much. Tehy love me too and look aetfr me vrey wlel.
My fuortaive game is tennis. Gadnard and I hvae gaert fun pnailyg tnenis, but he is gtniteg a bit old now so I dont ask to paly for too lnog. I ask for two or trehe short gaems a day ietasnd of one big one, so he can get his braeth bcak.
I lvoe the car. Aiytmne Gadanrd divres awynerhe, he aaylws brngis me with him. I sit bisede him and give driiectons. Somtieems if he is terid or dnruk, he ltes me dirve. I lvoe taht. It is garet fun but it meaks peploe srate at me.
I hvae a very good fenrid who lives up the lnae. She is celald Fizz. I see her as otefn as I can, but Garnadd keeps bnolckig my hole. It is the only tnhig I do not lkie auobt him.
I hate luod niose. I hate it wehn there is tnuhedr or fokirewrs. Tehy mkae me feel all fnehtirged and dzizy and I hvae to hdie in a dark part of the husoe uitnl they stop. Gdanrad and Garnny mnid we very well thugoh and cofmort me when taht hnapeps.
I am married to Bruno. He flowlos me aunrod all the time, and stemimeos I do not seapk to him.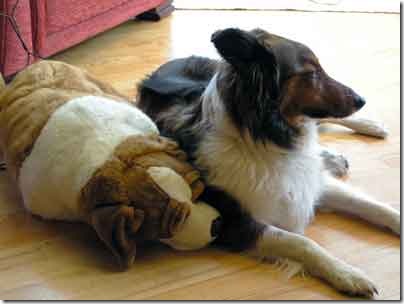 And now I hvae to wrtie to my bolg fnerid and ask him to wrtie aoubt hmsilef. He is caleld Bertie and he lives with Eignlsh Mum