I like messing around with things.
I like trying out bits of software, just to see what they do.
I like to try something out. If I like it, I keep it. If I don't, then I delete it.
Herself is still under trial, though she doesn't know it.
I have found a couple of little plugins for WordPress, and I installed them over the weekend.
One is a strange yoke called Community Cloud. You create a page and it lists all the people who have posted comments on your blog in cloud form. I have created a page called Friends, where you can see it in action. I have set my lower limit to 2, so if you have only posted one comment, you won't appear. Sorry. You have to try harder.
Unfortunately, there is no upper limit, so I can't banish Grannymar. She keeps commenting because she fancies her chances.
I found that plugin on KirkM's site – Just Thinkin. Not only is he a good blogger but he knows his WordPress too.
Another one I have installed, for the laugh, is the Talkr Plugin. This allows people to listen to my posts as podcasts. You'll have to excuse my American accent, and the fact that I sound like a woman. That's due to a mixup in pills the other night, where I accidentally swapped tablets with herself. She now has a fine beard too.
One plugin I would like to install is a yoke called "Enhanced Plugins Used Plugin". This is supposed to list all my plugins on a page, but I can't get the f*cking thing to work. Yet.
[* UPDATE – I have now got it working 🙂 *]
Another program I found has nothing to do with blogging, but I like it. It allows me to connect to other PCs and run them as if I were there. Even better, there is no sign on the other PC that I have connected, so I can use it for monitoring what's going on.
I can now watch Herself trying to sell my stuff on eBay. I can then go in and sabotage the auction. She hasn't worked out yet why her sales are so poor.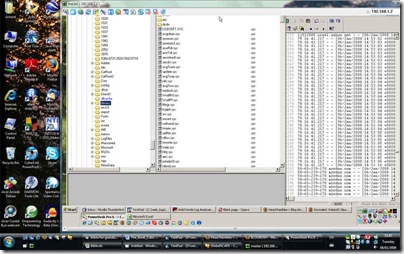 That's me with another PC's screen on mine
Now I'm going to do a scan of all my neighbours' PCs to see what they are up to.