Mixing the grin and the gripe
Last night I mixed the grain and the grape, which is something they say you should never do.
They're right. Whoever 'they' are.
I have a slight hangover.
Yesterday was a little cause for celebration. And for those of you who think I've gone all American and am talking about Thanksgiving, I'm not.
-oOo-
I got an email recently.
Its subject line was "Would you be interested in writing a book?"
Very f*cking funny! TAT is in the habit of making hoax phone calls and sending e-mails, and this looked just like one of his. I binned it.
Later, I went back to it, just out of curiosity. I did some checking. It didn't come from TAT's mail. So I replied to it and asked what they really wanted.
They wrote back and said they wanted a book. They seemed to be sane. They seemed to be serious. They even had a website, and I had heard of them.
They eventually persuaded me they were serious. They really do want me to write a book. I told them they were mad.
I told them I knew nothing about writing books. They said that it was easy, and that they had read Head Rambles and I could do it. So I told them that that was like saying that I could climb Killiney Hill, therefore I could climb Everest. They told me not to be daft. I threw a hissy fit because everyone one knows that authors are allowed to be temperamental.
So the e-mails started flying backwards and forwards. I began to hear about New Title Meetings and stuff like that. It was all rather surreal.
Then they sent me a contract. It was full of stuff about copyright and circulation rights and film rights. The last bit worried me in case they decided to cast Tom Cruise in the part of Grandad. I couldn't have that. I hate the little w*nk*r. So I had to insist on a 'No Tom Cruise' clause.
Yesterday, I signed the contract.
This means a lot of changes in my life.
I have to start drinking heavily. I have to start calling people 'Daarling'. I have to adopt an air of mysterious indifference in company. I have to learn to spell. I might even persuade Herself to let me buy a new laptop as this one is getting stroppy.
Of course, the ultimate would be an invite onto the Late Late, where I would insist on calling Kenny 'Plank' all the time. But I can't see that happening.
It's all a bit weird and mind blowing.
I only have one problem now…….
What the f*ck am I going to write about?
-oOo-
Last night, I went to the Golden Spiders thingy, with K8 the GR8.
First they poured the wine into us, but I'm not really a wine person so I went onto the Guinness [that turned out to be a mistake].
Then K8 and I went out for a smoke and got chatting to a bloke. I told him I knew I'd seen his face somewhere before and asked him who he was. He didn't seem too pleased with this as he was the host for the night – Jason Byrne. I told him who I was and he then realised he was in the presence of one of The Greats, so all was well.
We found we were sharing a table with Cully of Cully and Sully fame. I had already met Sully, so it was nice to complete the set. And he had brought a bevy of beautiful women, and I had the beautiful K8 with me so we were already attracting a bit of attention.
After dinner, Jason Byrne and Glenda Gilsen came on and they presented the awards.
When they called out Head Rambles for best blog, I must admit I was very surprised, but delighted because I fancied a chance to grope Glenda Gilsen.
So I hopped up on the stage, made an improper suggestion to Glenda and got her phone number. That's why she is looking so pleased.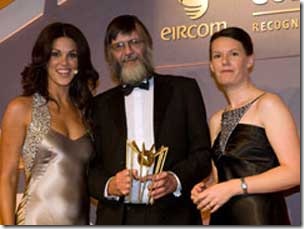 Then Cully and Sully won their category, and then they won the Grand Prix.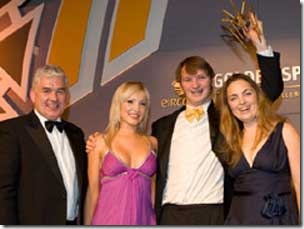 So our table ended up with three spiders. An arachnophobe's nightmare.
Our table was mobbed with well wishers and groupies, and Cully bought loads of champagne. People kept asking to see my pipe [?] and everyone wanted to be photographed with three spiders. They tried to interview me for television, but when they asked my opinion of the Golden Spider Awards, I got a fit of the giggles and told them about the Golden Crab Awards. I don't think they'll televise that.
Then the 'entertainment' came on.
Jayzus!!!!!!
I have heard Concorde take off. The 'group' were three times as loud and not as melodic. I was deafened, and all conversation ceased. K8 and I resorted to passing notes.
We went home then, and I had a large whiskey to calm the nerves.
I have to decide today what to do with my spider. Herself doesn't like spiders, and she won't have it in the house.
I might plant it in the garden to frighten off stray cats.