Getting dressed for the occasion
I had to go into town yesterday, as I mentioned.
It was a typical town visit – I sat around for hours while Herself vanished. Once she gets a smell of a shop she dematerialises like something out of Star Trek, and I don't see her for ages. Then she re-materialises, laden down with stuff we don't need. She has even phoned me on occasions to tell me which shop she's in. The strange thing is that I'm in that shop at the time and I still can't see her.
Anyway, I digress.
The main object of the exercise was to get myself kitted out. The invitation said 'black tie' but that's daft. You'd freeze to death wearing only a black tie, and anyway, I'd have nowhere to put my pipe and tobacco. So I phoned a friend [I'd already asked the audience, and done a 50:50 but they were useless]. The friend said that what they really meant was a monkey suit. Why the hell couldn't they say?
So I went off and got fitted.
I am going to look great on the night. Very suave. very elegant. Very distinguished.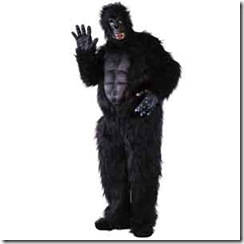 I can practice my guerilla tactics on the audience..?